Saturday March 1st is an extremely important day in this house. Not only is it the start of "I love to read" month on my site, but it is also my baby girls 14th birthday!! Soon she is going to be driving and dating. If only they stayed babies and had poseable thumbs!!
Have a great weekend everyone and Happy Birthday Samantha!!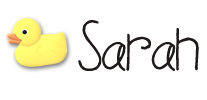 This post is written by
Sarah Coulsey
. She is a Wife, and Mother of two boys living in New England. This post may contain affiliate links.