**All opinions expressed are 100% my own. I was not compensated for this post. I was given some promotional materials to throw my parties**
I don't know if you could call me a Disney Fan. I only vacation there every year with my family, have a whole wardrobe made up of just Disney items for all four of us, own most of their DVD's, and have more Disney items in my home for the Kitchen, Bathroom etc then any other brand!!
So would you be surprised if I told you that most birthday parties in my family are Disney themed?? For my Sister Ashley's birthday, we made it a huge Disney deal!! I was honored enough to receive a fun Disney box of goodies to make our party extra special. Take a look at all the fun we had, and the goodies we received!!
We served pizza for dinner, and had a yummy tie dyed Mickey cake for dessert!!
We had a great time decorating!!
Then we played games and colored!!
Even the dogs had fun and dressed up!!
All in all we had a great time at our Disney Birthday Party, and we can't wait until our next one!!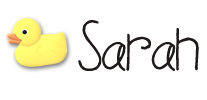 This post is written by
Sarah Coulsey
. She is a Wife, and Mother of two boys living in New England. This post may contain affiliate links.