**All opinions expressed are 100% my own. I was not compensated for this post. I was given product for review purposes.**
S.O.S® Brand History
In 1917, a Wear-Ever Aluminum cooking utensil salesman by the name of Irwin Cox was looking for a way his customers could keep their new pans shining bright. His invention: a pre-soaped steel wool pad. The idea was born in the basement of Cox's home by dipping steel wool balls into a hand-grade liquid soap and then allowing the pads to air dry. Cox's wife called the pads S.O.S, which stood for "Save Our Saucepans." The S.O.S® pads were so popular that Cox found himself with a hot new product line. A U.S. patent was issued for the concept in 1918 and the following year an investor group was formed in California to manufacture and sell the product. Almost 100 years later, S.O.S® remains the number one problem-solver for America's greasiest, grimiest, grungiest jobs.
I think pretty much everyone knows what an
S.O.S pad
is, and more likely then not has used them multiple times to clean their pots and pans of that caked on food that just won't come off. But did you know that S.O.S pads can be used for so much more??
S.O.S pads are a steeple in this house. We use them for pans, cleaning our stove burners, our gas grill, even our lawn chairs.
Here is a list of some of the ways we use S.O.S Pads!!
Pots and Pans-

This one is obvious. It was what the S.O.S pads were originally invented for. They can be used on a variety of pan types. Always test on a small area first before scrubbing too hard just to be safe!!
Kitchen Stoves-

We have a gas stove with a white porcelain top. We use the S.O.S on the burners, and all foods come right off. We do use them on the porcelain as well, but much more gently as to avoid scratches.
Kitchen Sink-

Our stainless steel sink gets hard water stains on it, and S.O.S pads clean them right off with minimal scrubbing!!
Oven-

I have the original self cleaning oven (you know the one you clean yourself!!) Scrubbing is made much easier with the S.O.S pads.
Coffee Pot-

S.O.S pads easily remove coffee stains. I give them a good scrubbing, and then run them through the dish washer.
Dish Washer-

Have you ever looked at the bottom of your dishwasher (inside and out?) It can get really gross. S.O.S pads work very well on dirty water stains, and the ick that accumulates.
Toilets-

The one chore that I hate more then anything. It's just eww!! I use the S.O.S pads around the bottom seal. They work really well.
Lawn Chairs-

I have white plastic lawn chairs that become dirty, stained, and covered in pollen every year. I use the S.O.S pads to make them look like new each spring.
Grill-

This is all my Husbands responsibility. He messes it, he cleans it!! S.O.S pads do wonders to get burnt and stuck on food, and tin foil right off.
Hub Caps-

Regular soap and water never get all that dirt and oil off. S.O.S pads work wonders!!
Clorox recommends using the S.O.S pads on grills as well. Check out this video to see the best way to use them.
Do you have other uses for S.O.S pads not listed here?? I would love to hear them!!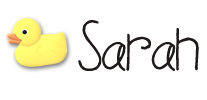 This post is written by
Sarah Coulsey
. She is a Wife, and Mother of two boys living in New England. This post may contain affiliate links.