One thing I look forward to every year is spring cleaning. Yes I know I am nuts, but there is no better feeling in the world then a nice clean house!!
This year we are really excited to get started. We had some water damage in our basement a couple months ago, and unfortunately some of our possessions were ruined. In a couple of weeks, we are going to rent a dumpster, and clear out the basement, and get rid of some construction materials that have just been sitting around!!
We have not done a huge cleaning like that in at least 6 years (since we bought the house!!)
Here are some great tips
Home Made Simple
sent me to make your spring cleaning easier!!
Top 3 Spring Cleaning Secrets
1. Divide & Conquer. Focus on deep cleaning one specific
thing each day, like your oven or bathtub, and your entire
home will be spotless before you know it.
2. De-clutter first. It's hard to clean with stuff everywhere! Clear
out the space before cleaning and organize as you put things
away afterwards.
Tip: From closets to work areas, corral clutter with storage bins.
3. Enlist help. Rally kids, spouses and roommates to lend a
hand by making it fun. For instance, let the first to organize
their room pick what's for dinner or the next movie night flick.
One last thing: Don't forget to celebrate a job well done. Once
you've conquered spring cleaning, pamper yourself with that
pedicure or indulge in that cupcake. You've earned it!
Here's to a fresh spring start,
Your Friends at Home Made Simple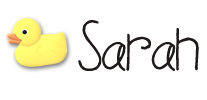 This post is written by
Sarah Coulsey
. She is a Wife, and Mother of two boys living in New England. This post may contain affiliate links.