Costumes, Candy, Fun Activities and Free Tokens All Part of "Chucktober 2012" at Chuck E. Cheese's
Family entertainment leader gives free tokens to families who bring in coupon from October activity
DALLAS – Sept. 26, 2012 –
Costumes, candy and colorful props are all part of family entertainment leader, Chuck E. Cheese'snew fall promotion, "Chucktober 2012." Beginning today, parents and children can log onto www.chuckecheese.com to print out a series of fun and exciting props to pair with their costumes. Children who bring in the coupon from the activity to participatingChuck E. Cheese's locations during the month of October can enjoy 10 free tokens to be used to win cool prizes and create great Chuck E. memories with the family.
"At Chuck E. Cheese's we love to spend time celebrating the different seasons with our friends and families," said Scott McDaniel, chief marketing officer, Chuck E. Cheese's. "Chucktober 2012 is especially fun because our cast members and Chuck E. get to see all the kids in their cool costumes and the props from our activity."
As part of the special "Chucktober 2012" promotion, weekend visitors will enjoy a new Chuck E. trick – a candy splash featuring free candy and tickets! The splash takes place at 12, 2 and 4 p.m., Saturdays and Sundays only. Parents can look for more details in Chuck E. Cheese's latest email blast.
Kids can also sing and dance along to Chuck E.'s new downloadable song, "Them Bones," every hour daily during the free ticket splash. Families can learn the dance together before their trip by watching Chuck E.'s new video on YouTube.
In addition, guests can find October's activity, as well as other fun Chuck E. activities, on the Chuck E. Cheese's website athttp://www.chuckecheese.com. For even more fun, visit the Chuck E. Cheese's YouTube channel to watch entertaining videos that feature the famous Chuck E. having fun with kids and families nationwide.
About CEC Entertainment, Inc. (NYSE: CEC):
For more than 30 years, CEC Entertainment has served as the nationally recognized leader in family dining and entertainment and the place Where a Kid can be a Kid®. The Company and its franchisees operate a system of 555 Chuck E. Cheese's stores located in 48 states and seven foreign countries or territories. Currently, 506 locations in the United States and Canada are owned and operated by the Company. CEC Entertainment, Inc. and its franchises have the common goal of creating lifelong memories for families through fun, food and play. Each Chuck E. Cheese's features musical and comic robotic entertainment, games, rides and play areas as well as a variety of dining options including pizza, sandwiches, a salad bar and desserts. Committed to providing a fun, safe environment, Chuck E. Cheese's helps protect families through industry-leading programs such as Kid Check®.
Chuck E. Cheese's aims to promote positive, lifelong memories inside and outside of its stores. In addition to providing a fun entertainment experience for millions of families across the world, Chuck E. Cheese's has donated more than $6 million to schools and non-profit institutions through its fundraising programs. For more information, see the company's website atwww.chuckecheese.com.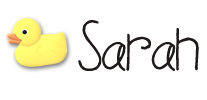 This post is written by
Sarah Coulsey
. She is a Wife, and Mother of two boys living in New England.