The
Exergen TemporalScanner™ Thermometer
is a non-invasive system with advanced infrared technology providing maximum ease of use with quick, consistently accurate measurements. Advanced, patented technology measures temperatures with a gentle stroke across the forehead.
The thermometer is easy to use, with just a few simple steps: Simply depress and hold its large, soft button and lightly scan across the forehead. A red LED light and soft beep indicate a correct scan.
Nearly two billion temperatures are taken each year with the TemporalScanner™. It is used in thousands of hospitals, clinics and pediatricians' offices across the country, as well as in millions of homes. In addition to being the #1 preference of pediatricians in the United States, it is the #1 preference of nurses, and the #1 selling retail thermometer.
The TemporalScanner™ Thermometer is tested six times for accuracy during manufacture at Exergen's plant in Watertown, Massachusetts and comes with a one-year warranty. It runs on one 9-volt battery (included), and meets and exceeds all regulatory requirements, including FDA, ASTM, EC, and UL.
Created by Harvard-research scientist Dr. Francesco Pompei, the TemporalScanner™ has become one of the most efficient, non-invasive thermometer ever created. The Exergen TemporalScanner's performance is supported by more than 50 peer-reviewed published studies covering all ages from preterm infants to geriatrics and all care areas from hospitals to homes.
There is a long list of items you need to get as a new or even established parent. One of our top priority items is a good thermometer. I can't begin to tell you how many times we have had to call the pediatrician for a baby not feeling well, and one of the first things they always ask is "is he running a fever?"
The Exergen TemporalScanner Thermometer
is so easy to use. You just rub it over the persons forehead. It takes just a quick light touch, so it's very ideal for sleeping babies and children. Every time we have gone to the doctors, or sadly the hospital in the last couple years, we have noticed most doctors now use these. With the soft glowing display, you can use the thermometer in the dark and not worry about waking the sleeping patient.
I have used both the temporal thermometer, and our old fashioned ear thermometer. The Exergen gives by far the most accurate results. We checked my sons temperature four times and got four different temps with the ear thermometer. We received the same reading each time with the temporal thermometer!!
I love this thermometer, and I highly recommend everyone get one for their household!!
You can purchase your own thermometer at Wal-Mart, Babies R' Us, Walgreens, Toy's R' Us, or Costco.
Would you like the chance to see how great the temporal thermometer is for yourself?? One lucky reader is going to win their own Exergen Temporal Thermometer!!
Enter using the rafflecopter form below, and good luck.
a Rafflecopter giveaway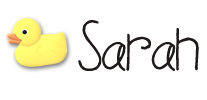 This post is written by
Sarah Coulsey
. She is a Wife, and Mother of two boys living in New England. This post may contain affiliate links.