It is so hard to believe School is over now. My oldest baby is going to be in 3rd grade, and my youngest baby is going to be in Kindergarten!! Where had the time gone??
Have a great weekend everyone, and Happy first day of summer tomorrow!!!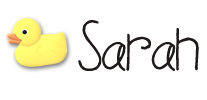 This post is written by
Sarah Coulsey
. She is a Wife, and Mother of two boys living in New England. This post may contain affiliate links.