If you don't know what Hair Chalk is, then prepare yourself for amazingness! It's a super fun, temporary method to add some serious flair to your hair. These vibrantly colored hair-chalk sticks from Ellore Femme help you to easily paint rainbow hues onto strands. The easy-to-blend dyes are formulated with natural plant pigments, rendering the chalk non-toxic. All 24 colors easily wash out in the shower.
My sister loves to dye her hair different colors. The problem is she can only do it once every couple months. Otherwise her hair will fall out from all the chemicals!!
With Hair Chalk, she can change her hair color often, and not worry!! Plus she can also have multiple colors at once!!
Spontaneous hair color
Set with heat
Blendable colors
Nontoxic, natural plant pigments
Washes out after one shower
Use on wet hair
24 vibrant shades
May transfer onto clothing during application
May cause respiratory irritation if inhaled
Now you can save $30 Off Ellore Femme 24 peice Hair Chalk set with promo code
BL15
Regular Price: US $44.99
Price with Promo Code:
$14.99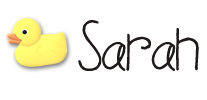 This post is written by
Sarah Coulsey
. She is a Wife, and Mother of two boys living in New England. This post may contain affiliate links.