It's like a ticket to an amazing sample sale. Only members can take advantage of
zulily's low prices
. Membership is free and signing up is fast and easy. Once you're a member, you'll be the first to know what's new every day.
zulily events last 72 hours . . . then they're gone! New brands move in and get their three days on the site. (And, have a mentioned how awesome the clothing deals are on zulily? ;) ...)
Here's an event ending soon: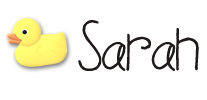 This post is written by
Sarah Coulsey
. She is a Wife, and Mother of two boys living in New England. This post may contain affiliate links.