Lady Sophia has long been estranged from her husband, Vane Barwick, the Duke of Claxton, whose rumored list of amorous conquests includes almost every beautiful woman of the ton. Yet a single touch is all it takes to reawaken her furious passion for him. But how can she trust the man who crushed her dreams and took away the one thing she wanted most?
Claxton has never forgiven himself for the youthful mistake that ruined his marriage to Sophia. Now, after nearly a year abroad, the reformed rogue vows to win back the only woman he's ever truly loved. He'll do whatever it takes to prove he can be the honorable husband she deserves-and the passionate lover she desires.
Get your copy today, and read my review this weekend!!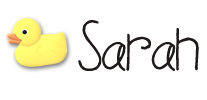 This post is written by
Sarah Coulsey
. She is a Wife, and Mother of two boys living in New England. This post may contain affiliate links.