Ben and I bought our house six years ago. We have done a lot of minor and some major repairs over the years, but the newness factor of fixing up the house wore off.
Anyone who owns a home knows that money is always an issue with home repairs, and so is time. Don't forget to throw in the kids too!!
We were really good at tackling projects that first year, but now not so much. Until this past weekend.
We have an older home (1920) and the front and back porches are getting old. They were painted at some point, and over the years the paint has worn out and started to chip. A small section of our front porch had some water damage years ago and it was never taken care of. We noticed the damage when we first bought the house, but we set that problem away for another day.
With the kids getting older, they need more room to play. What is better then the covered large front porch!! Especially when its rainy weather, they can still go outside and play. We also don't want our house to look like we don't love it!!
Being a holiday weekend, we figured it's the perfect time to start working. We didn't realize ahead of time that Mother Nature didn't want us to work!!
Saturday and Sunday of the weekend rained non stop. No way were we going to use power tools in the rain!! So we had to wait until Monday to start the project.
We managed to get quite a bit done that first day with the larger floor sander.
Yesterday we spent all day with the next level of sander. This one was for getting all the paint against the house, and in hard to reach places.
Ben ran the machine, and I palm sanded and scraped the hand railings of the porch. There were at least 5 layers of paint on the banisters!! It took brute force to get the paint off enough to smooth it out.
We only had to make one trip to Home Depot for supplies. We brought Doug with us. Can you tell where he is??
Today we have a little more sanding to do, and then tomorrow we can start staining and painting!!! Almost done!!
Have you taken on large home improvement projects before?? What did you tackle??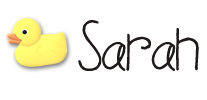 This post is written by
Sarah Coulsey
. She is a Wife, and Mother of two boys living in New England. This post may contain affiliate links.