If you are looking for a terrific movie for the whole family, then get to the store and pick up your copy of Wreck It Ralph today!!!
Poor Ralph is a "bad guy" who does not want to be bad anymore. He is tired of watching 'Fix It' Felix get all the credit, win all the medals and have all the friends. Ralph decides he has had enough being the bad guy, and he game jumps to find a medal to prove he is a good guy too.
Along the way he meets some terrific friends in other games, and learns being the good guy and winning medals is not as easy as it seems.
We love this movie!! With fun references to "retro" games (I refuse to say old, I played them when I was a kid) and hilarious movie references (Or.e.Ooo (Watch and you will understand!!)) you will spend most of your time laughing!!!
Check out these fun clips below, and then test your bad guy skills!!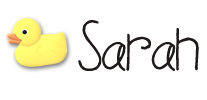 This post is written by
Sarah Coulsey
. She is a Wife, and Mother of two boys living in New England. This post may contain affiliate links.