I just wanted to send out a quick post so that it goes out in today's email!!
I have some terrific giveaways, reviews, and shopping deals posts that I am working on right now. Keep checking back through out the day to see the fun!!
I also want to wish everyone a very Happy Thanksgiving!! Try not to eat too much Turkey!!!!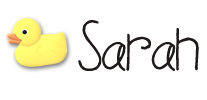 This post is written by
Sarah Coulsey
. She is a Wife, and Mother of two boys living in New England.