TGI Friday's Gift Card tonight folks!!!
Flash Giveaway for an TGI Friday's Gift Card (or Cash) starts at 6pm est tonight!!! The giveaway only lasts for 6 hours, so make sure you come back and enter on the giveaway post!!!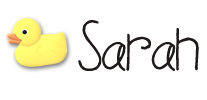 This post is written by
Sarah Coulsey
. She is a Wife, and Mother of two boys living in New England.